ARIMNet2 Newsletter n°4
Dear friends,

The cooperation momentum between ARIMNet2 partners is keeping all its promises and these last few months have been very fruitful.

Indeed, thanks to the 2016 Joint Call for transnational research proposals, 11 research projects started in 2017, devoted to enhance food value chains and the sustainability of agricultural practices in the Mediterranean Region; we celebrated their kick-off meeting in Tangier on 29-30 March 2017.

Moreover, we are about to launch a new Joint Call to support specifically young Mediterranean researchers in their efforts to implement collaborative projects. It will give them the opportunity to develop their own research ideas and networks, and to build long-lasting partnerships.

The ARIMNet2 International Stakeholder Conference on Agricultural Knowledge and Innovation Systems (AKIS) in the Mediterranean (12-13 October 2016, Antalya) was a successful networking and policy-support event: 75 stakeholders (researchers, farmers, agribusiness entrepreneurs, funders, policy-makers, NGOs, etc.) from 16 countries brainstormed, exchanged experiences and formulated recommendations to improve Mediterranean AKIS and in particular, the innovation potential of agricultural research activities and their environmental and societal impacts.

In October 2017, we will hold the final meeting of ARIMNet2 (as it will end in December this year) and we expect to communicate intensively our achievements during this event.

ARIMNet2 has definitely managed to implement a new form of agricultural research and innovation cooperation in the Mediterranean Area. After almost 10 years of a fruitful cooperation, ARIMNet-ARIMNet2 partners have learnt to work effectively together and have developed mutual trust and a strong commitment to continue their joint activities in a long-term perspective to meet current and future Mediterranean challenges.

We welcome the imminent start of PRIMA (Partnership for Research and Innovation in the Mediterranean Area) and its ambition of establishing a stronger and more durable R&I cooperation in the Mediterranean Region, and we wish it great success!

Enjoy this newsletter and follow us on www.arimnet2.net and facebook!


Florence Jacquet
Launch of the ARIMNet2 2017 Joint Call for Young Researchers Transnational Research Proposals:
The Youth at the front line of agricultural R&I
Building upon the experience and success of previous Joint Calls and accounting for the expectations that emerged during the Young Researchers Seminar held in Montpellier in June 2016, the ARIMNet2 Consortium is launching in June 2017 a Joint Call for transnational research proposals dedicated to young scientists, to help them develop their own projects and networks, and to support them in their career development.

This call supports collaborative research projects aimed at improving the sustainability of agricultural practices and food systems to contribute to the wealth of the Mediterranean Region. It addresses the same two topics as the 2016 Call:
Topic 1: Promoting sustainable agriculture for socio-economic development.
Topic 2: Valorising local products through food value chains improvement.
This new Joint Call is open to Young Researchers only and will fund new research projects that will start in 2018.

For more information, visit www.arimnet2.net or contact the call secretariat (Fabrice Dentressangle, ANR; fabrice.dentressangle@agencerecherche.fr)
ARIMNet2 Integrated Strategic Research Agenda:
A Euro-Mediterranean framework for a more inclusive and effective cooperation on agricultural research and innovation
The ARIMNet2 Integrated Strategic Research Agenda (ISRA), born from a joint effort between ARIMNet2 partners with the support of our Scientific and Strategic Advisory Board (SSAB), was published in October 2016. Click here to download the ISRA.
Fruit of a continuous dialogue between ARIMNet2 partners (i.e. 24 funding agencies and research organisations from 15 Mediterranean countries) and the SSAB consisting of renowned international scientists and European institutions, the ISRA constitutes a shared vision of Mediterranean challenges and priorities and a transnational strategy to boost agricultural research and innovation cooperation for enhancing sustainably food security, natural resource preservation and socio-economic development across the Mediterranean Region.
The ISRA is the actual roadmap for joint action in the framework of ARIMNet2 and will also guide future similar initiatives and policy-making. It frames the multiple activities implemented or proposed by the ARIMNet2 Consortium to actively support Mediterranean research and innovation efforts, notably by funding collaborative research projects (e.g. transnational calls), sharing research infrastructures and equipment (e.g. joint experiments, shared platforms), and fostering knowledge exchange and capacity-building (e.g. young researchers seminars, international conferences, networking events).
The ISRA builds upon and complements existing European initiatives for the Mediterranean Region, in particular the FACCE-JPI and Standing Committee on Agricultural Research (SCAR), paving the way for a more inclusive and effective Euro-Mediterranean cooperation on agricultural research and innovation.
ARIMNet2 conceptual framework: The food security, poverty alleviation and natural resource preservation nexus.
ARIMNet2 2016 Joint Call:
Funding 11 promising research projects to improve Mediterranean agriculture and food value chains
In April 2016, ARIMNet2 partners launched a Joint Call for transnational research proposals (14 countries, > 6 M€) to support innovative trans-disciplinary research projects aimed at enhancing sustainably the contribution of agricultural and food systems to the socio-economic development of the Mediterranean Region. The call addressed two key topics: 1) Promoting sustainable agriculture for socio-economic development; 2) Valorising local products through food value chains improvement.

Following a scientific evaluation based on international standards, ARIMNet2 partners, during a meeting at the Ministry of Agricultural, Food and Forestry Policies (MIPAAF) in Rome on 27-28 October 2016, agreed to fund 11 research projects starting in 2017: BEEHEAL, CARAVAN, DIVERCROP, EnViRoS, iBarMed, NANOBIOAGRI, PeRFORM, ProMedFoods, REALMed, SEMIARID, VIPACFood.

For more information, visit www.arimnet2.net (Research projects > Projects Call 2016) or contact the project coordinators.
On 29-30 March 2017 in Tangier, the coordinators of these 11 projects presented their scientific objectives, approaches and expected impacts to the funding agencies and researchers. This meeting gave us also the chance to discuss the opportunities and challenges linked to transnational collaborative research activities.
ARIMNet2 International Stakeholder Conference on Agricultural Knowledge and Innovation Systems (AKIS) in the Mediterranean (12-13 October 2016, Antalya):
Driving change through the exchange of experience and collective brainstorming
The AKIS Stakeholder Conference gathered 75 participants (farmers, agribusiness entrepreneurs, funders, policy-makers, researchers, NGOs, etc.) from 16 countries who brainstormed, exchanged experiences and discussed ways to improve Mediterranean AKIS.
More information at www.arimnet2.net (Mediterranean Joint Calls & Activities).
The participants came up with recommendations to boost collaborative agricultural research and innovation in the Mediterranean along three directions:
1. Facilitating multi-stakeholder interaction & cooperation
Understanding better the roles and interactions of the multiple stakeholders, as well as the decision-making processes and drivers of change in R&I systems.
Developing multi-stakeholder collaborative settings and instruments connecting value chain actors (i.e. farmers, researchers, students, farm extension services, agribusinesses, consumers, NGOs, policy-makers, civil society, etc.): multi-stakeholder platforms, clusters, incubators, thematic networks, hubs of networks, Joint Research Units, Joint Technological Units, Technology Transfer Centres, Innovation Centres, Competency Centres, etc.
Training people on multi-stakeholder collaboration (co-innovation) and participatory science, and encouraging new actors such as innovation facilitators and brokers.
2. Fostering a balanced cooperation between public research and private business
Encouraging a more meaningful role of the private sector in R&I, through its involvement in the scientific committees of R&D institutions, the definition of practice-oriented research programmes, mobility of researchers and entrepreneurs from the academia/research framework to the business fabric.
Supporting the participation of private actors in the implementation of the research activities through specific funding and Intellectual property management mechanisms/instruments.
Balancing the short-term interest of the private sector with the medium to long-term public governmental R&D strategy and research projects' impacts, ensuring benefit sharing along the value chain.
3. Strengthening the governance & capacity of Mediterranean agricultural research

At the programme level
Developing long-term transnational research strategies and programmes involving farmers' representatives and other private actors from different sectors, in addition to research/academia representatives.
Strengthening the role of the EU joint co-funded programmes to support innovative research and public-private partnerships/cooperation.
Fostering the coordinated involvement of ministries/policy-makers, universities, technical centres, etc., as key drivers of change.
Promoting the development of a Mediterranean R&I Network by supporting interface structures (e.g. technology transfer centres, innovation centres, and their networks).
Encouraging long-term institutional cooperation among research and higher education organisations to promote institutional changes conducive to a better interaction with the various actors of innovation.
At the project level
Defining better innovative research and capturing the innovation potential of research projects using relevant standards/criteria (e.g. readiness, market potential, satisfaction of clients' needs), and identifying the R&I outputs that can be valorised by researchers and beneficiaries (patents, models, protocols, etc.).
Conditioning project funding by the involvement of public and/or private stakeholders (e.g. farmers, NGOs, industry, technology transfer centres/offices) and adapting funding rules and eligibility.
Adapting the management of intellectual property and data confidentiality to public-private collaborative research.
Supporting the communication and dissemination of R&I outputs to all stakeholders to ensure a faster adoption of innovation.
At the researcher level
Encouraging scientists to engage in multi-stakeholder research through incentive and rewarding schemes (financial incentives, career progress, recognition of products other than publications and patents, etc.).
Developing suitable research methodologies geared towards multi-stakeholder research and innovation.
Fresh news from StomP (Sustainable Tomato Production):
Check-In-Bio Workshop (Chemical Ecology Inputs in Biological Control), 13 July 2017, Nice (France)
This workshop (Programme) will highlight the input of chemical approaches as solutions for some biological control issues. Chemical ecology could be a key approach to improve biological control through the optimisation of bio-pesticides, volatile organic compounds as well as plant defences.

As it will follow a STomP meeting (11-12 July), this workshop will also be an opportunity to meet STomP Mediterranean colleagues, exchange ideas and start building new projects.

For more information, contact Thomas Michel (Thomas.michel@unice.fr) and have a look at www.arimnet2.net (Research Projects > Projects Call 2015).
Fresh news from MASCC (Mediterranean Agricultural Soils Conservation under Global Change):
Plenary meeting in Aveiro (Portugal), 28-29 March 2017
The MASCC project held a plenary meeting at the University of Aveiro, Portugal, to discuss the progress and orientations of the project.

A field trip was kindly organised by the Portuguese team, to visit several sites and share experiences and best practices:
Recently burnt forest areas with runoff and erosion plot measurements
The Macieira de Alcoba catchment
Biochar experiments in vineyards
The Sao Lourenço catchment
More information at http://mascc-project.org
Fresh news from SALTFREE (Salinization in irrigated areas: risk evaluation and prevention):
Investigating the soil salinization risk in irrigated agricultural systems to propose sustainable soil management practices
SALTFREE partners (IDL-FCiências (Portugal), INRGREF (Tunisia), INIAV (Portugal), ISAFOM-CNR (Italy), and PORT SAID UNIVERSITY (Egypt)) have collected Electro-Magnetic (EM) data and soil samples to characterise different soils in terms of salinity, and study their evolution. The work is carried out closely with farmers to explain them the objectives of the project and to demonstrate and discuss the methods used.

For more information about SALTFREE, have a look at www.arimnet2.net (Research Projects > Projects Call 2015)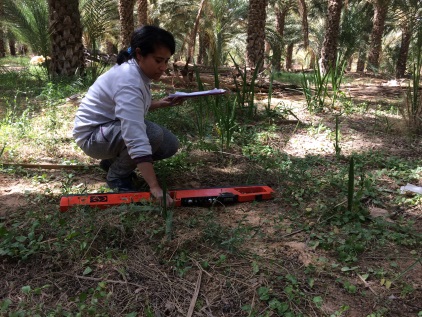 Preliminary ECa map (VDM in mS/m), Lezírias (Portugal)
Fresh news from AVIAMED (AVIan viral disease prevention and control with plant vaccines for the MEDiterranean area):
Bursal Disease virus and New Castle Disease under scrutiny
The transient expression experiments in Nicotiana benthamiana plants of the Infectious Bursal Disease virus and New Castle Disease virus antigens (provided by IZSVe and IAV partners), fortified in their intrinsic immunological properties, have started, with the contribution of Emile Rage, a PhD student enrolled thanks to the project funding.

The plant "biofactory"-based approach suggested by AVIAMED has the potential to result in: 1) ease and rapidity of production scale up at low costs; 2) simplification of the purification procedures; 3) improvement of vaccine efficacy; 4) development of low-cost and ready to use diagnostic tools able to differentiate infected from vaccinated animals (DIVA) in surveillance programs and international trade of poultry and poultry products.

More details on the AVIAMED website, www.aviamedproject.net, developed thanks to Dr Rachid Mentag (INRA-Morocco, in charge of the networking and dissemination activities).
Upcoming events
12-13 October 2017 - ARIMNet2 / 4PRIMA back-to-back meetings (Montpellier, France)
The next ARIMNet2 meeting will take place in Montpellier on 12-13 October 2017. We will present our results and this meeting will be the occasion for all people involved in ARIMNet2 to interact and discuss the project's achievements. The coordinators of the 10 research projects funded through the ARIMNet2 2015 Call (AVIAMED, BACPLANT, BEST, BrucnetMed, EMERAMB, MASCC, MedOOmics, ORPRAMed, SALTFREE, STOMP) will present their activities and preliminary results and will discuss scientific breakthroughs and international collaboration challenges with the funding agencies and researchers.

This meeting will be back-to-back with a 4PRIMA meeting (http://www.4prima.org) organised by ANR (Agence Nationale de la Recherche, France) and PRIMA coordination, aimed at disseminating the PRIMA Strategic Research and Innovation Agenda (SRIA). It will be the chance to learn about the funding opportunities available to Mediterranean researchers during the years to come.
Publications
Mariangela Coppola, Pasquale Cascone, Maria Luisa Chiusano, Chiara Colantuono, Matteo Lorito, Francesco Pennacchio, Rosa Rao, Sheridan Lois Woo, Emilio Guerrieri, Maria Cristina Digilio, 2017. Trichoderma harzianum enhances tomato indirect defense against aphids. Insect Science. DOI: 10.1111/1744-7917.12475 [StomP]
 
Mohamed Annabi, Damien Raclot, Haithem Bahri, Jean Stephane Bailly, Cecile Gomez, Yves Le Bissonnais, 2017. Spatial variability of soil aggregate stability at the scale of an agricultural region in Tunisia. CATENA 153: 157–167 Link DOI [MASCC Project]
ARIMNet2 (Coordination of Agricultural Research in the Mediterranean)
ARIMNet2 is an ERA-Net supported and funded by the European Union through the FP7, running from 2014 to 2017; it is the second phase of ARIMNet (2008-2013).

Network: 24 national funding agencies and research institutions from 15 countries: 9 EU Member States, 3 Associated Countries, and 3 Mediterranean Partner Countries.

Main aims: Promoting the coordination of national research programmes and building joint initiatives to fight fragmentation & exploit synergies in the Mediterranean.

Main activities: Preparing an Integrated Strategic Research Agenda (ISRA), funding innovative Mediterranean research through transnational calls, and organising joint networking and brainstorming activities such as seminars and training for young researchers, conferences, etc.


1 - INRA, France
2 - ASRT, Egypt
3 - ANR, France
4 - CIRAD, France
5 - CIHEAM-IAMM
6 - FCT, Portugal
7 - DEMETER, Greece
8 - IAV, Morocco
9 - INRAA, Algeria
10 - KRS, Croatia
11 - IRESA, Tunisia
12 - INIA, Spain
13 - ICARDA
14 - CREA, Italy
15 - MESRS, Algeria
16 - MIPAAF, Italy
17 - MIZS, Slovenia
18 - MKGP, Slovenia
19 - MOARD, Israel
20 - ARI, Cyprus
21 - GDAR, Turkey
22 - MESRST, Tunisia
23 - MCST, Malta
24 - ARC, Egypt


To learn more about our partners click here.
 
ARIMNet2 WP leaders / co-leaders

WP1: Integrated Strategic Research Agenda (ISRA)
Serenella Puliga (MIPAAF-IT), s.puliga@politicheagricole.it

WP2: Joint Calls for research proposals
Sanaa Zebakh (IAV-MA), sanaa.zebakh@yahoo.com
Fabrice Dentressangle (ANR-FR), fabrice.dentressangle@anr.fr

WP3: Follow-up of funded projects
Anabel De la Peňa (INIA-ES), anaisabel.delapena@inia.es
Maria Maia (FCT-PT), maria.maia@fct.pt

WP4: Joint activities (summer schools)
Aristotelis Papadopoulos (DEMETER-GR), gendirpap@nagref.gr
Adel Aboul Naga (ARC-EG), adelmaboulnaga@gmail.com
Jean-François Tourrand (CIRAD-FR), tourrand@aol.com

WP5: From Research to Innovation (AKIS)
Sahin Anil (GDAR-TR), sanil@tagem.gov.fr
Anna Vagnozzi (CREA-IT), anna.vagnozzi@crea.gov.it
Ali Rhouma (IRESA-TN), ali.rhouma@iresa.agrinet.tn

WP6: Communication & Dissemination
Ali Rhouma (IRESA-TN), ali.rhouma@iresa.agrinet.tn

WP7: Coordination & Management
Florence Jacquet (INRA-FR), florence.jacquet@inra.fr
Fabrice Gouriveau (INRA-FR), fabrice.gouriveau@inra.fr
ARIMNet2 benefits from the advice of a Scientific and Strategic Advisory Board (SSAB):
Uygun Aksoy, Chair, Professor, Ege University Faculty of Agriculture (Turkey)
Bernard Hubert, Vice-Chair, President, Agropolis International (France)
Mohammed Badraoui, General Director, Institut National de la Recherche Agronomique (Morocco)
Dunja Bandelj, Researcher, University of Primorska (Slovenia)
Mohammed Ben Hamouda, General Director, Institut National de la Recherche Agronomique (Tunisia)
Marcello Pagliai, Director, Centro di ricerca per l'agrobiologia e la pedologia, APB-CRA (Italy)
Maroun El Moujabber, representative of ERANETMED
Peter Gregory, representative of FACCE-JPI
Egizio Valceschini, representative of SCAR
ARIMNet (2008-2013) and ARIMNet2 (2014-2017) are ERA-NETs coordinated by INRA (France).

They have received funding from the European Union's Seventh Framework Programme for research, technological development and demonstration under grant agreements no. 219262 (ARIMNet) and no. 618127 (ARIMNet2)